Is your Anaplan Model Size Optimized? Improve performance and conserve model space without compromising functionality via size optimization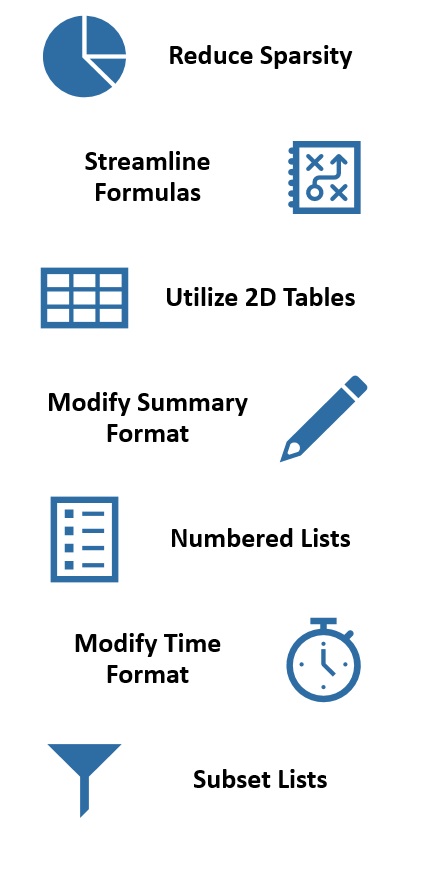 With TekLink's Size Optimization offering we go through each of the below optimization methods providing our customers with a leaner, better performing solution.
Utilize 2D tables rather than 3d dynamic tables: Converting bulky 3D to 2D transactional modules saves space and provides drill through functionality.
Review "Applies to": We decipher the correct dimensions for each line item to reduce sparsity
Formula Update: Revising formulas can eliminate unneeded modules, thus reducing space and improving performance
Nest together formulas with multiple parents: Nesting formulas reduces size and improves performance
Analyze Summing: We will determine where in your model you can remove unneeded sums
Time Settings: We will ensure all your line items are properly using time settings.
Modify versions: We will ensure all your line items properly reference version.
Subset List: We will analyze list usage to determine if subsets can be added to save space.
Numbered List: Numbered lists are extremely useful to reduce sparsity. Using our experience, we will determine where we can leverage numbered lists to optimize your model. (Know More: Overview on Numbered Lists)
Hierarchies: We will analyze your usage of lists and hierarchies and can often combine lists saving significant space.
Connect with TekLink today about our Size Optimization services!
If you are interested in learning more about Size Optimization services available at TekLink International, please reach out to us at anaplan@teklink.com.